GBR Sailors topped the podium at the RS Feva World Championships 2018
15 very lucky GBR RS Feva teams headed out to Florida to take part in the RS Feva World Championships. Oakham and Sevenoaks Schools, Hayling Island, Gurnard, Yorkshire Dales, Queen Mary and Corinthian Otters Sailing Clubs all had representatives taking part. With a near to 50/50 balance of 8 Male and 7 Female helms and 8 male and 7 female crews covering ladies, mixed, boys and family categories the event was set to be a great challenge for all our teams with lots of titles to compete for.
In terms of location, Clearwater in Florida will take some beating with its crystal blue waters, white sands and near perfect weather which delivered every wind type we could wish for, perfect to crown the 2018 World Champions. Sailors had to perform in a mixture of conditions which included showing a masterclass in big wind sailing on "Super Saturday" when the weather gods treated the fleet to some great windy conditions
Annie Hammett and Emma Wells (Hayling Island Sailing Club) really suffered on day 1 with 2 black flag disqualifications, sheer guts and determination saw them through to then take the Ladies World Champion title and 8th overall in the Championship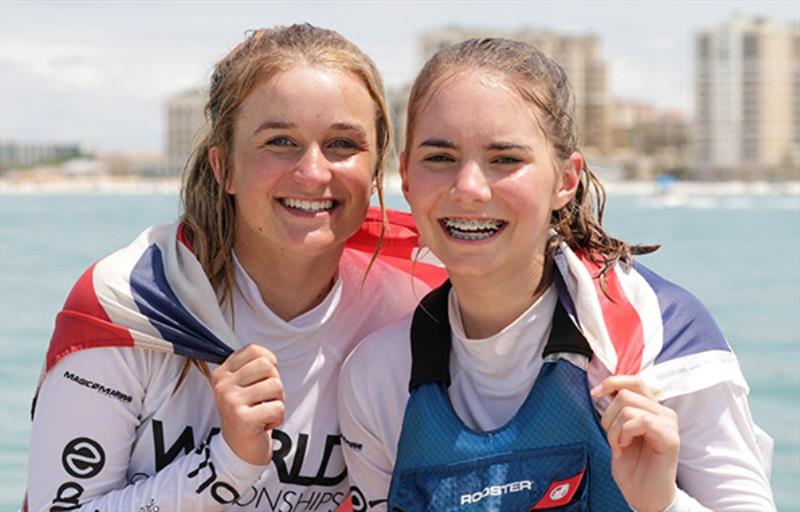 Overall World Champions Ben Hutton Penman and Abi Jayasekara from Corinthian Otters proved the most gracious of winners and with just 1 result outside of the top 10 including a string of 5 1st, 3 x 2nd a 3rd, 4th, 5th and their 2 discards of 9 and 11 made for an impressive championships, looking at their score line you can see stand out results every day of the event covering every condition. Runners up Tom Storey (Yorkshire Dales SC) and Rupert Jameson (Hayling Island Sailing Club) nerves may have been the reason for a shaky start using both their discards on day 1 but they certainly found their mojo for the rest of the event. It was a close battle between 1st and 2nd just 6 points that separated them in the end, these guys really showed the fleet how to sail the RS Feva well! Both teams are best of friends who along with the whole of the team GBR had great fun sharing the celebrations and victory swims! The GBR party was one to remember!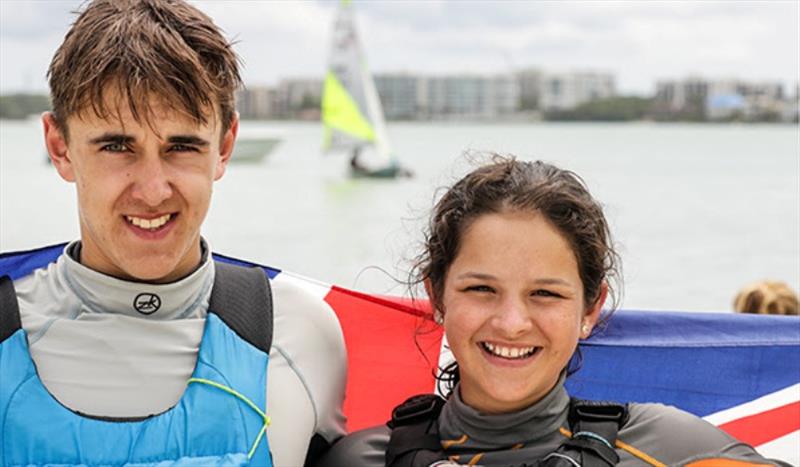 It goes without saying that our entire GBR team did us all proud. Special feedback from the race team was that the GBR sailors behaved really well both on and off the water, they especially commented on their sportsmanship and impeccable manners.
With friendships made and memories banked from this amazing event we congratulate all who took part, Oakham and Sevenoaks Schools for giving their students the amazing opportunity and experience they had, they are the envy of many Schools who would have loved to have been given the opportunity, the parents who saved hard and took the plunge to make the journey and allow their sailors the wonderful experience they had.
As a class, we are immensely proud of all the sailor's achievements throughout the fleet and thank all the sailors and their families and supporters for helping to make the week the amazing success it was.
On behalf of the UK RS Feva Class Association, we would also like to thank the fantastic team in Florida, Jill Nickerson from Red Gear Racing for all her hard work to pull the event together, the fantastic race team headed up by the amazing Paul Ulibarri and each and every volunteer on and off the water and not forgetting Clearwater Community Sailing Centre for sharing their magnificent venue.
RS Feva Worlds RS Feva Sailors having fun!
Ladies Results: (top three)
1st - GBR7030 Annie Hammett and Emma Wells
2nd - CZE6962 Anna Justová and Nela Višcorová
3rd - NED7033 Hanna Rijk and Bente Zuidema
Boys Results: (top three)
1st - GBR7064 Tom Storey and Rupert Jameson
2nd - USA6851 Dieter Creitz and Conrad Miller
3rd - NED7026 Robbert Huisman and Gijs Zuidema
Junior Results: (top three)
1st - NED7028 Femme Rijk and Silke Zuidema
2nd - CHN6967 Feng Ziteng and Ding Zhaohui
3rd - CHN6983 Ma Yuk and Niu Shiyin
Family Results: (top three)
1st - GBR6985 William Caiger and Becky Caiger
2nd - CHN6970 Ouynag Huiyun and Ouyang Huixin
3rd - SUI7068 Verhoest Brent and Verhoest Robbe
Your Association
The RS Feva Class Association UK is run by volunteers co-ordinating everything Feva, from introducing young sailors to our sport through to managing and organising racing events, training and Squads throughout the UK.
Join Here
Joining the UK RS Feva Class Association means you will be eligible to race in a variety of class events through the year. Membership allows you the opportunity to shape the future of the class through a vote at the AGM.