by Jonathan Lewis on 23 Nov19-20 November 2016
Burnham Squiddies Winter training © Jonathan Lewis
Twenty RS Fevas gathered at the Burnham Sailing Club for the second weekend of the Burnham Squiddies Winter training. The 40 sailors had a broad spread of abilities from new club sailors to World Champions. The various levels of experience were expertly catered for by our coaching team of Jonathan Lewis, Flynn Davies and Chay Taylor. Visitors travelled from as far a field as Draycote, Norlfolk, Seven Oaks and Hayling Island to participate in the coaching.
Saturday was medium breeze and bright sunshine. With starting being the focus for the top two groups, rolling starts were the order of the day. Our transitioning sailors concentrated on routines, boat handling and generally sailing their boats faster. Morning and afternoon sessions were divided by a lovely lunch supplied by the BSC super galley slaves with the day ending with a video debrief.
Following the arrival of Storm Angus overnight rumours of "no sailing" were quickly dismissed by the coaches with the announcement of a mini regatta being run. With an onshore commentary being provided to our newer sailors (now affectionately termed "Our Squidlets", boats were launched into gusts of up to 38 knots.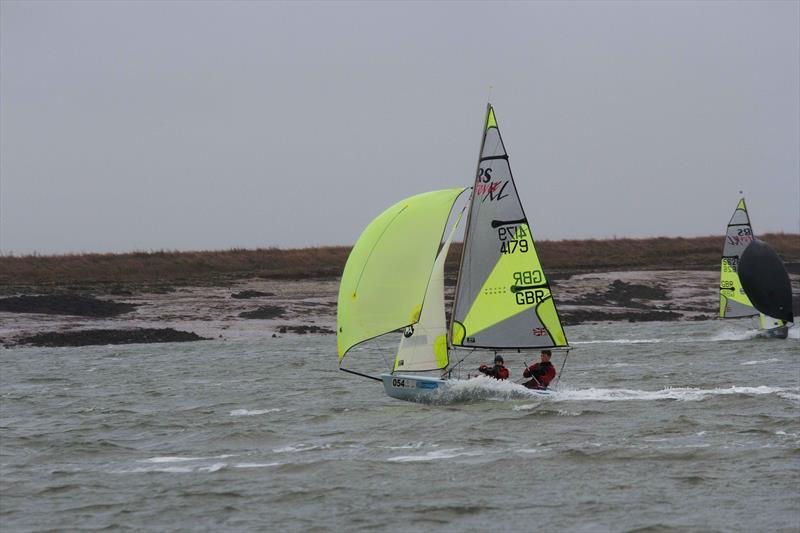 The Squiddies quickly got up to speed and raced hard in the breeze. With a large swell growing throughout the day, this added yet another dimension to challenge our Rockstars. With many place changes, the racing was as competitive as ever, with perfectly executed gybes, under pressure, being the key to success.
With Weymouth this weekend, it is great to see 9 of the 32 entries being from The Squiddies.
Many thanks to all the parents who chipped in with the cooking, RIB launching and recovery, plus generally assisting the coaches.